RSVP now for a free upcoming event with the Office of Financial Empowerment, including Operation HOPE and College Kids!
Gateway to Benefits Fair III
The Office of Financial Empowerment once again wants to help you take full advantage of all of the financial benefits that are afforded to you for being a valued city employee.
Gateway to Benefits Fair gives you the opportunity to meet with our bank partners to learn of the exclusive products and resources for working for the city, open new accounts on-the-spot, set appointments for loans and more!
There will be raffles, giveaways, and food trucks. Come get it all at City Hall!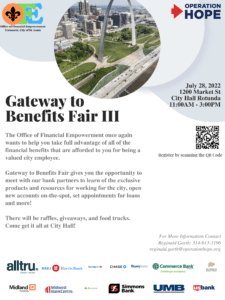 [rsvppro id="194″]
Share This Story, Choose Your Platform!